Succulents have been all the rage in recent years. These adorable and hardy plants come in all shapes, sizes, and colors, and so do the succulent pots you can put them in.
*This post may include affiliate links. When you purchase items from these links, we will receive a small commission, at no extra cost to you, to help support this website. Thank you for your support! Read more ->
Whether your personal style is retro, minimalistic, or bold, there's a succulent planter just for you. Here are ten of this year's cutest succulent pots to give you the gardening or gifting inspiration you need!
Related: Flowering Succulents, Black Succulents, Hanging Succulents
The Chinese Container That Takes Your Succulents To The Next Level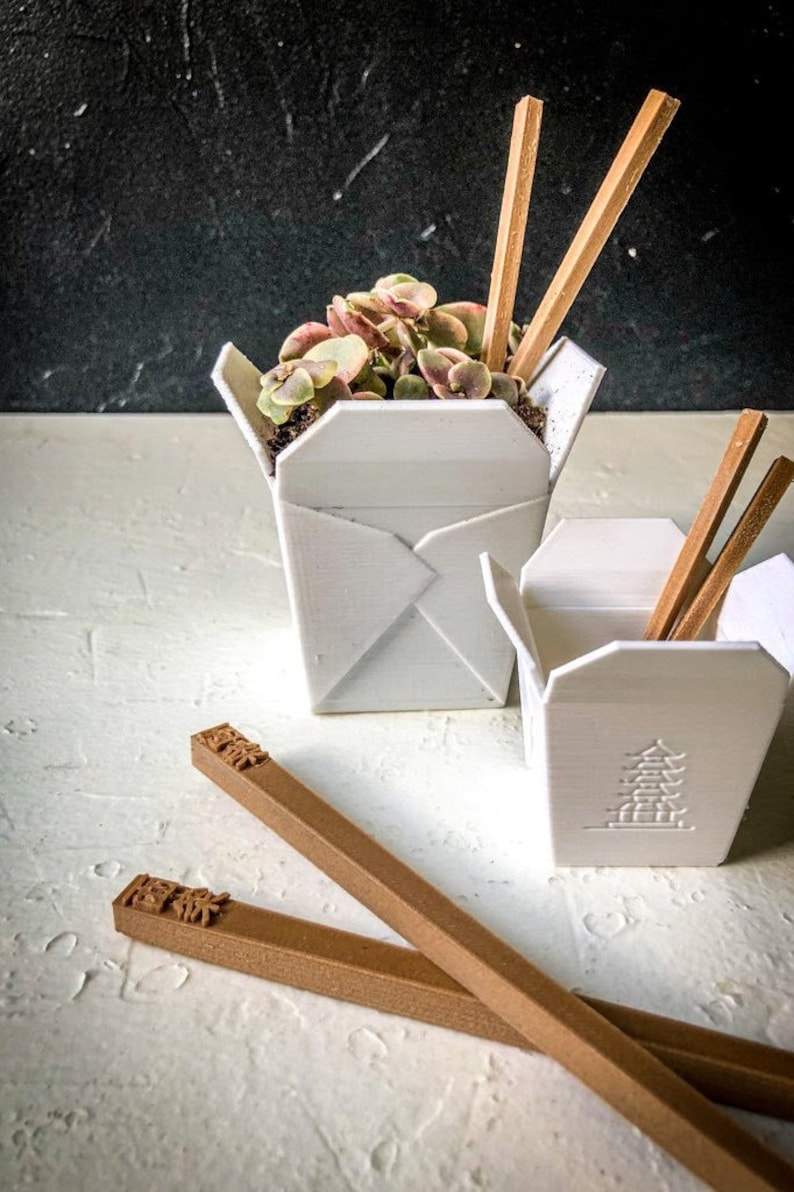 These tiny Chinese takeout containers are the perfect home for small succulents. Measuring three inches by two inches, these handmade planters fit perfectly in outdoor spaces, indoor spaces, and window boxes. They'll make the perfect decoration for your, or your favorite foodie's kitchen!
If you, or someone you know, are in the market for unique and expressive planters, these cartoonish succulent pots are for you. They come in a set of six and make the perfect cozy clay homes for your succulents to thrive in. It's no wonder customers give them a five-star rating.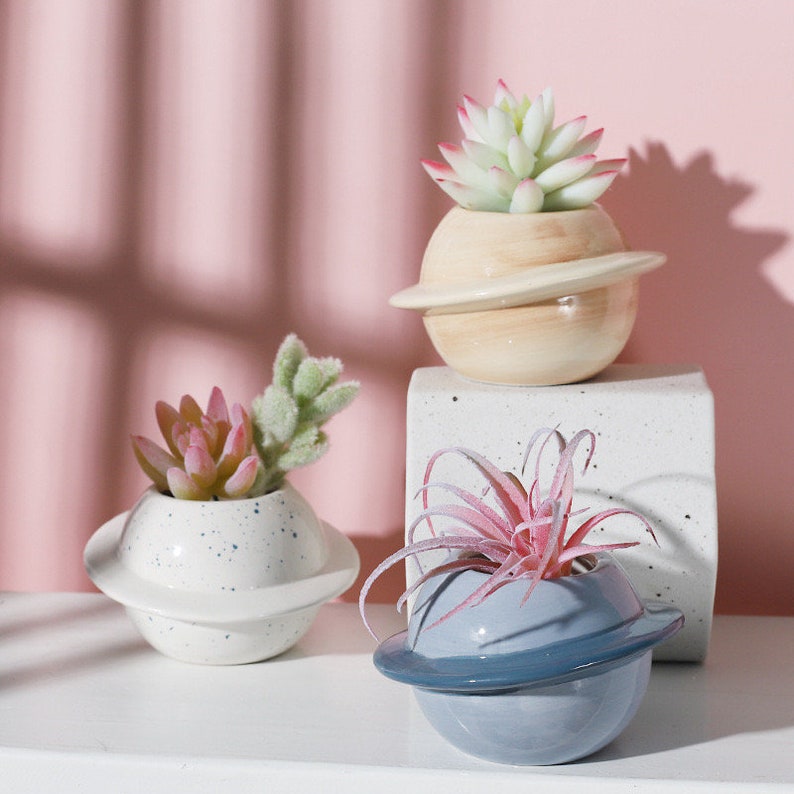 These planet-themed succulent pots are out of this world. The small ceramic pots make the perfect statement piece to house your indoor succulents. Anyone with a love for space or astronomy is sure to appreciate these pastel planet planters.
They're handmade, have a drainage hole, and come highly recommended by over 2,000 happy buyers.
The Cutest Coffin For Your (Hopefully) Undead Succulents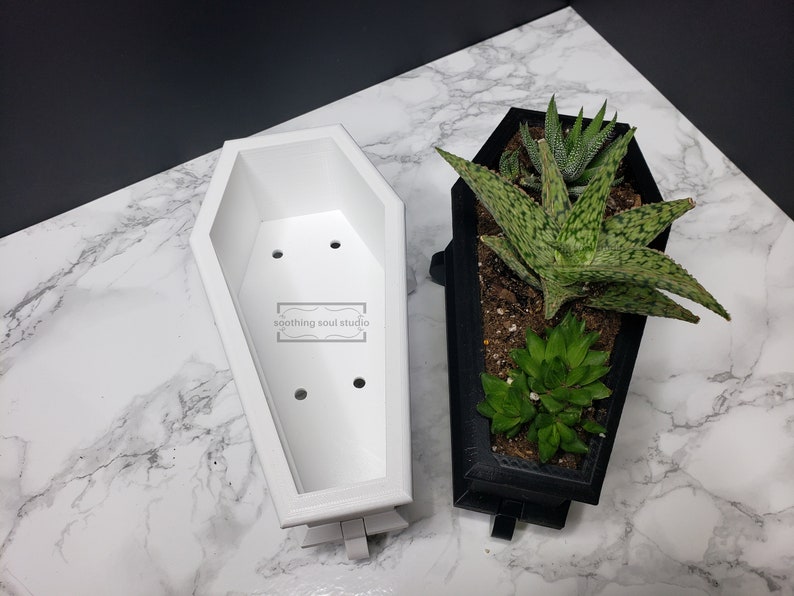 These coffin-shaped planters are the perfect pots for those who can't get enough of the spooky aesthetic. Whether they're just for Halloween or destined to be a year-round decoration, these cute and creepy planters will make the perfect home for a succulent.
The coffins come with a custom stand to keep them slightly above the surface they're sitting on. This allows for excellent drainage and adds to the decorative appeal of the piece. Choose one of the five available colors to add a touch of spookiness to your life.
Dinosaurs may have gone extinct, but our love for them certainly hasn't. The theme is very popular, so it's no surprise that you can get your own delightful dinosaur planter to hold your plants at home or at the office.
The delightful design features a built-in base on the bottom to allow the planter to drain without overflowing. This means you can set it wherever you want without fear of water damage.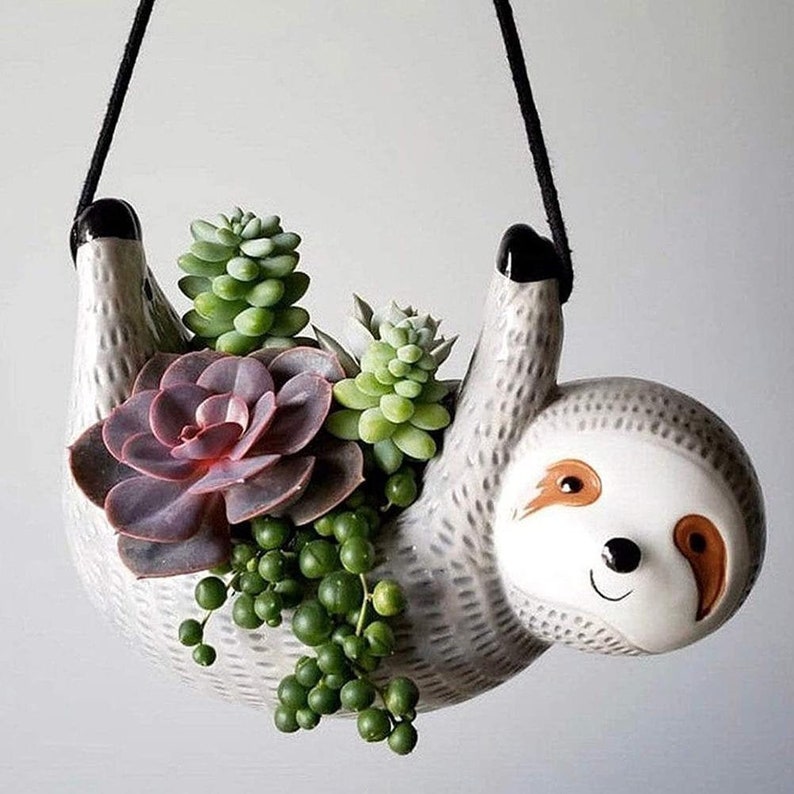 This cute critter is sure to make your plants, and guests, feel at home. The hanging sloth planter allows you to spice up your indoor décor without finding a new spot to set a plant. It's perfect for longer succulents with hanging leaves, and the unique design is sure to be a conversation starter.
The planter also has a flat base, so if you don't wish to hang it you can set it on a surface. This versatility makes it the perfect planter if you're not quite sure where it's going yet.
Cats are a beloved part of the family, and nothing says cat lover like these ceramic cat succulent planters. This three-pack comes in red, green, and blue. There's also a two-pack from the same seller that has a slightly different design, to make sure you find the perfect cat planter for you.
The Hair Planter For Salon Worthy Succulents
You can find a succulent planter in any theme, and that includes the perfect salon piece. These hair planters let your succulent serve as the hairdo for a little ceramic lady.
The cute statement pieces come as a set of four, making them perfect if you need to spread them around a space. If you have a hairstylist in your life or just someone who loves plants and whimsical planters, this is an excellent pot to add to their collection.
When it comes to unique space-saving solutions, this planter takes the prize. This ferris wheel has six plant pots circling its base, to ensure that all of your succulents have a fun ride and a place to grow.
The design is cute and practical, especially if you live in a climate that leaves you scrambling to find a place inside for all your plants come winter. Save space with this adorable planter that's sure to impress.
The Pokémon Planter That You Can't Help But Choose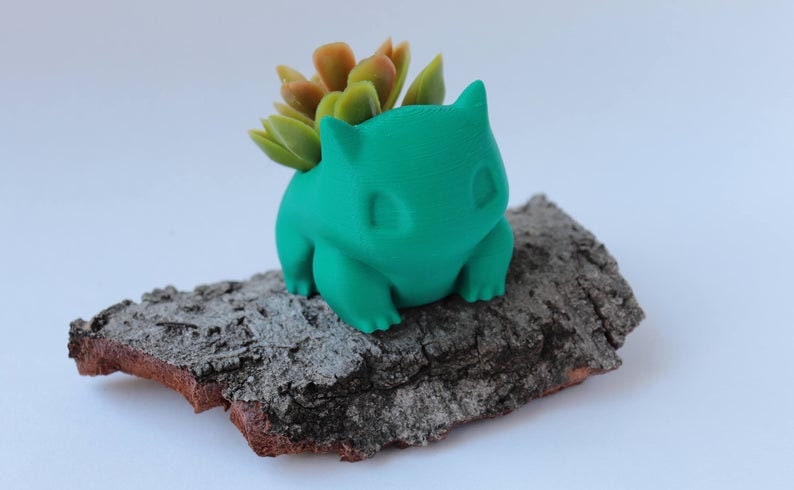 If you like catching Pokémon, and succulents, this Bulbasaur planter is the one you should choose. Its design allows your succulent to become the Pokémon's signature back piece, a feature that's sure to delight any Pokémon fan.
You can choose between sizes ranging from small to extra, extra, extra-large, making it the perfect planter for any size of succulent. You can also choose Bulbasaur's base color to add an extra level of personalization.
---
There are thousands of pots to choose from, but these ten are a great starting place for those wishing to own the year's cutest planters.
Decided on which one is your favorite? It's really hard to pick just one!